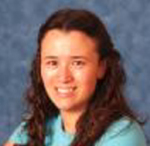 Beccy Key
Bex is one of our younger members of the society and has had a great deal of experience as a performer and working backstage.
Bex made her début for WTC in Chorus of Disapproval but even then she was no stranger to the stage. She appeared in Absolute Beginners at Alcester Grammar School, Miss Eland in The Burston Drum, Sprintze in Fiddler on the Roof, Brigitta in The Sound of Music and Jessica in the Merchant of Venice.
A woman of many talents she was also musical director for the Golden Mask of Agamemnon… wow!
In 2004 she performed in Shut Your Eyes and Think of England and is sure to go down a storm. Here are a few words from Bex about the rehearsals for the show:
"Rehearsal's for SYETE are going pretty well. It felt weird when I went to my first one two weeks ago. But they were all having a laugh (especially Adam – playing Sir Justin Holbrook, the guy who's hired me – who was behaving very oddly!) and it helped me relax.
I'm finding it quite tricky to be elegant and sexy, there are times when I wonder why my character is on stage at all – as Joy (Lady Holbrook) said "I have acres of nothing", but on the whole it's cool. They went into great discussion in the pub about what I'm wearing. The high heels, stockings and suspenders go without saying, but the decision is split between:
a slinky slit cocktail dress OR a short skirt and top,
answers on a postcard please! As Ted (The Director) pointed out, they've never seen my legs so they don't know which to suggest. So I guess muggings here will have to wear my short skirt to 'help' them decide!
I felt awful on Wednesday night so I wasn't exactly at my best. My character keeps getting caught up in all the action but basically just wants to go home and go to bed – I could totally sympathise with her that night!"
Beccy most recent performance was playing the part of Irene in the 2007 production of 'The Dresser'.
As Cast

2007
The Dresser
Irene


2004
Shut Your Eyes and Think of England
Stella Richards


1999
A Chorus of Disapproval
Bridget Baines
As Crew