Lucy Alderton
Lucy attends St. Augustine's High School and has a keen interest in acting, singing and dancing. She has performed many times with various drama groups and at school; the latest being the school musical "Return to the Forbidden Planet" playing Miranda.
Lucy has been dancing for 12 years with Spirals Dance Academy and found it hard to be as uncoordinated as Amy! She also sings with the school choir and jazz band and has competed in singing competitions including County Pop Icons earlier this year whe she sang 'True Colours'.
Lucy hopes you enjoy the show!
As Cast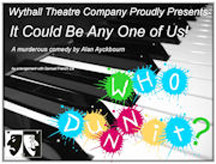 2010
It Could Be Any One Of Us
Amy Polegate