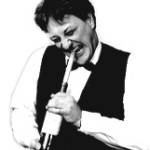 Neil Wattison
Neil appeared in the 1978 production of 'I'll Get That man' (as a photographer) and crewing for a 1979 production.
Neil e-mailed the site in July 2006 to say:
"… I appeared in a couple of plays for the W.T.C. I had a lot of fun with the group. Your training must have done some good as I have been running my corporate comedy company 'Spanner in the Works' for the last eighteen years. I love the website. Keep up the good Work."
The photo of Neil featured is from 'Spanner in the Works' website. Neil is Bub Wadlow the drunken waiter! Spanner in the Works was the first comedy waiter act to emerge in this country in 1986 and it has been Neil's full time job to supply spoof entertainers ever since.
Neil says "we have worked all over the world with our Fawlty Towers style of bad service."
For more details please see: www.spanner.co.uk
As Cast


1978
I'll Get My Man
A Photographer
As Crew