Penny Simpkins
Penny joined the company in 2007 after auditioning for a part in A Murder is Announced.
Penny started out as a dancer, at the age of three! Soon after her Mum, a well established amateur actress, involved her in dancing with The Hurstpierpoint Players.
Penny moved to Birmingham at the age of ten and carried on dancing and joined SOSage Factory (Solihull Operatic's youth section!) and was in their production of The Mikado.
Penny also joined The Revels drama group in Knowle. She began as a dancer in Babes in the Wood and Ali Baba and then acted in The Snowqueen (playing the part of Gerda).
For a short while Penny trained with Playhouse a youth drama company based in Leamington. She has also paticipated in a summer drama school at the Dovehouse theatre, playing Sandy in Grease.
Penny set up a dance school in Shirley, in association with Solihull Christian Fellowship, and it is still going strong eight years later!
After joining Knowle Operatic Society Penny appeared in Charlie Girl and Annie! Penny also studied Theatre to A Level.
After a break from acting, while she was at University, Penny returned to KOS for the fabulous Titanic!
Penny was pleased to be joining Wythall as it gave her first major acting role. "Im very excited about it all – yay!"
Penny's first performance for Wythall was as Phillipa Haymes in our fantastic production of 'A Murder is Announced' (November 2007). In 2008 Penny was the confused but enchanting 'Mrs Smith' in 'Run For Your Wife.'
As Cast

2008
Run For Your Wife
Mary Smith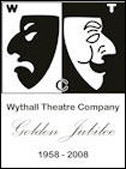 2008
Golden Jubilee Celebrations
Contributor


2007
A Murder is Announced
Phillipa Haymes