Rosie Worsley
To quote the Abba song 'Thank You For The Music', I really DID sing before I could talk! My first appearance on stage was as The Angle Gabriel aged 5 in the School Nativity and singing 'Georgie Girl' by The Seekers aged 6 in an infant school talent contest, using my Mum's upright carpet cleaner as a microphone.
Currently a member of St Alphege Musical Society in Solihull and will be appearing in 'Crazy for You' with them in November 2015.
Other roles have included Mrs Chevely in 'An Ideal Husband' (Union Theatre), The Mother Abbess in 'The Sound of Music' (Union Theatre), Sister Sophia in 'The Sound of Music' (Knowle Musical Society), Fruma Sarah in 'Fiddler On The Roof' with both Knowle Musical Society and Union Theatre and Mrs Beaver in 'The Lion The Witch And The Wardrobe' (Union Theatre).
I have never trodden the boards with Wythall Theatre Company; I have been prompt twice ('The Dresser' and 'Steel Magnolias') and Props for 'Time Of My Life'. One day I really do hope to actually act with them!
I am a self employed singing and piano teacher. Please visit my website www.rosemaryworsleyschoolofmusic.co.uk.
I am currently finishing an MA in Film and Creative Writing at the University of Birmingham.
As Cast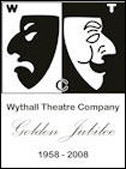 2008
Golden Jubilee Celebrations
Contributor
As Crew