Book of The Month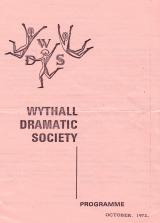 Venue : Woodrush High School
Date : October 1972
Genre : Comedy
Director
Mike Beamish
Director
Cast
Crew
Crew
Production Gallery
Production Reviews
Programme Information
'Book of the Month' is based on one of those brilliantly simple comic ideas that make one wonder why nobody though of it before.

In the first scene, an M.P.'s teen-age daughter horrifies her family with the revelation that she is the author of a current bestselling novel. What's more, she has based the characters in the novel on her own family.

Later, we see the pleasant, law-abiding family as they appear in the book, transformed by the daughter's over-ripe imagination, and not at all as one would imagine!

The action of the play takes place in the lounge hall of Edward Halliday's house, near Cheltenham.
---