The Deep Blue Sea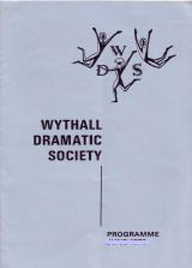 Venue : Woodrush High School
Date : February 1974
Genre : Play
Director
Mike Beamish
Director
Cast
Crew
Crew
Production Gallery
Production Reviews
The Deep, Blue Sea
Many well-known professional actresses have dominated Terrence Rattigan's play of the 50s, "The Deep, Blue Sea" by their portrayal of the unhappy Hester and Val Archer's interpretation of her in Wythall Dramatic Society's production of the famous play week was no exception.

An arduous part for any, actress with its long emotional passages and the strain of being on stage for most of running time of the play, Val truly "lived" the part of desperate woman on the brink of desertion by her irresponsible ex-test pilot lover.

As Hester's "darling" Frank Winter was assured, but his characterisation had a coldness which made one wonder how Hester suicidal about him, so that he never attracted the onlooker's sympathy to himself.

Sybil Parr's well-meaning, busy body landlady of the second rate apartment house, with her railway ailing - but never seen husband, was absolutely in character. Her way of speaking, gestures and whole appearance were just right, and Gerry Solomon gave the struck-off Doctor Miller interesting depth of character which made one want to know more about him.

As the husband Hester abandoned for Freddie, however, Jack Parramore's portrayal of the eminently respectable Sir William Collyer seemed somewhat stagey, the humourless part seeming unsuited to Jack's acting style which reacts so well to a warmer type of character.

The young couple from the flat upstairs - Philip and Ann Welch - played by Philip Lett and Willa Hislop, had very little to add to the action of the play, except polite disapproval of the immoral behaviour of their neighbours in a time when living together to regarded as rather more shocking than at present, and Freddie's RAF pal, Jackie Jackson, was played in a suitably casual style by David Plumb.

The play itself, although its dialogue is undeniably good, is long and drawn-out by modern standards, belonging to an era not far enough in the past to be all that interesting to the present day playgoer. It was a pity that Val Archer's excellent performance was backed up by clothes of the right style ark length for the period, especially as Ken Gibbon's setting was so very suitable and believable.

V.L., Local Newspaper 1974
---