Golden Jubilee Celebrations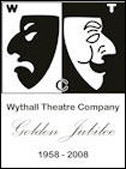 Venue : Wythall House
Date : June 2008
Genre : Celebration
Director
Director information coming soon!
Cast
Crew
Crew
Production Gallery
Production Reviews
Overview of the Event
The Golden Jubilee Celebrations were a very special evening. A chance for past and present members to meet, perform and enjoy celebrating the Company's 50 glorious years.

We were delighted to have one of founder members, Peggy Tomlin, joining us.

We were also delighted to award our very own Estelle Shutkever a Life Membership for her dedication to the Company over the years.

A very big thank you to everyone who took part and to all those who attended. Thank you.
Marcus Bridger, WTC Website
---
What the audience said
"Just wanted to say a big THANK YOU for allowing me to be part of a really super evening ... it was a great celebration." D. W.

"Congratulations on running a very successful evening the whole thing was a great success I thought. It was lovely to see so many people there!" P.H.

"Everyone enjoyed it so much!" E.S.

"I just wanted to say thank you for the invitation to Wythall Theatre Company's 50th Birthday celebration. It was a wonderful evening, and a lot of hard work and planning went into it. I thought the entertainment was excellent, and just the right length... I must also mention the Power Point presentation which I though was exceptional. It must have taken hours to put it all together, and I think anyone who has appeared on even one production would have spotted themselves." A.S.
Our Audience, Comments and Social Media
---
Press Release June 2008
2008 is Wythall Theatre Company's Golden Jubilee Year. For fifty years they have produced high quality plays of all kinds around the region and winning over twenty awards through the years. There will be many celebrations, and chances to meet up with past members and friends of the Company.

In 2007 the Company produced the critically acclaimed play "The Dresser" by Ronald Harwood and the record breaking production of Agatha Christie's "A Murder is Announced". This Miss Marple classic played to our highest audience yet, and was both a critical and commercial success. The Company's success has continued into their Jubilee year having just finished a tremendous run with R. C. Sherriff's World War I classic "Journey's End".

Their next exciting production, will be "Run for Your Wife" by Ray Cooney, the 138th production in the history of the Company!

'John Smith is a London cabbie with his own taxi, a wife in Streatham and a wife in Wimbledon and a knife-edge schedule, he has been a successful, if a somewhat tired bigamist for three years, but that all changed the day he gallantly intervened in a mugging and got taken to hospital with a mild concussion. In the ensuing complications aided by a less than enthusiastic Stanley, John tries bravely to cope with a succession of well meaning but nosey policemen, the tabloid press, two increasingly distressed and irate wives and a gay neighbour, until he manfully confesses the truth – but no one believes him!'

This is Cooney's most famous modern farce and you can be sure that Wythall Theatre Company will deliver an evening of riotous entertainment that will brighten any winter's evening with gales of laughter!

The production will run from Wednesday 5 to Saturday 8 November at The Palace Theatre, Redditch. Performances will start at 7.30 pm and tickets range from £7.50 to £9.50 (please contact the Box Office for details on 01527 65203).

WTC is a friendly, local society which always welcomes new friends and members. We meet at 8 pm at Wythall Parish Hall every Monday and Wednesday. For further information please look at our extensive website: www.wythalltheatrecompany.co.uk.
Various
---