The Hollow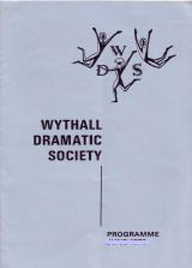 Date : February 1975
Director
Frank Winter
Director
Cast
Crew
Crew
Production Gallery
Production Reviews
Fine Acting Lifts Thriller at Wythall

Reviewed by PKS
Local Newspaper 1975

"The Hollow" by Agatha Christie was presented on Thursday, Friday and Saturday by the Wythall Society.

The story had all the conventionally provocative situations – a girl in love with a handsome married doctor who is reviving an old affair with a young actress.

A week end house party not surprisingly ends in tragedy. The action was somewhat slow to start, though things livened up with the arrival of the police.

Even then the interrogation of all those with a motive for murder lacked any nerve-tingling suspense and one felt it something of an anti-climax when the culprit was finally revealed.

Not, one ventures to suggest, one of Agatha Christie's most thrilling thrillers but 'any disappointment in the plot was compensated for by the excellent presentation by this ambitious dramatic society.

Gerry Solomon as Dr Cristow, was both word and action-perfect not only delivering his lines with verve but also knowing exactly what to do with his hands - a considerable attribute in any actor. It was regrettable that he ended up as a corpse in the first act.

Estelle Shutkever gave her usual impeccable performance asthe "feather. brained " Lady Angkatell. Equally polished was Val Archer as Henrietta Angkatell, and Will Hislop as "Midge," who brought delivery to her budding love affair with Edward, convencing portrayed by Phill Lett. Jean Winter was outstanding in the difficult rode of Gerda Cristow.

Beryl Linforth, as the doctors "old flame " looked lovely in spite of being as hard and brash as the part demanded.

Other roles were competently played by: Gerry Smith Jack Parramore and Sybill Parr.

Christine Cruxton, played with confidence and spirit while Ted Pedvin as Gudgeon the butler gave a piece of perfect characterisation.

The entire production was smooth and coordinated and only one very small criticism could be offered.
A number of references were mad to the amount of blood around the victim and yet every one who clustered around the corpse came away clean handed!

The settings were tastefully designed by Ken Gibbons, lighting was by George Cope, properties by Barbara Clulee and stage management by Bob Aldridge assisted by Mike Beamish, Paul Jenkins and Brenda and Ivan Castle.

---