Michael Bentley
Michael joined us in 2006 with many years experience in operatic companies in the Solihull area.
He has been a member of Knowle Operatic Society for more than ten years and has also performed for Solihull Theatre Company, Peterbrook Players and The Keynotes.
Nevertheless, Michael's favourite achievement was passing his Grade 5 singing exam over the Summer of 2004.
Michael has had many principal singing leads in such shows as: Pirates of Penzance, The Scarlet Pimpernel, Gigi and the Music Man. In 2006 Michael and his friend Rosie actually got to audition in front of Simon Cowell and other judges for TV's X-factor.
Despite Michael's obvious singing talent he wanted to join Wythall to have a chance at straight acting and working on different aspects of production.
He was therefore delighted to make his debut for Wythall in the part of Podgers in Lord Arthur Savile's Crime (2006). His sinister protrayal of the character gave the audience a good insight into Michael's talents.
Michael's most recent performance for Wythall was as Sergeant Mellors in our fantastic production of 'A Murder is Announced' (November 2007). Michael showed his versitility in this production because he was also the prompt!
As Cast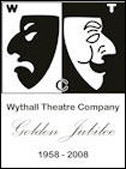 2008
Golden Jubilee Celebrations
Contributor


2007
A Murder is Announced
Sergeant Mellors

2006
Lord Arthur Savile's Crime
Mr Podgers, a cheiromantist
As Crew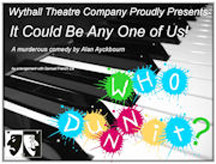 2010
It Could Be Any One Of Us
Ticket Sales