It Could Be Any One Of Us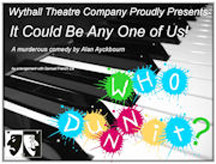 Venue : The Dovehouse Theatre
Date : May 2010
Genre : Murder Mystery
Director
Martin Alderton
Director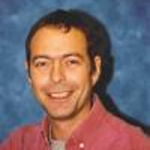 Adam Lee
Director
Cast
Crew
Crew
Production Gallery
Production Reviews
Press Release
Alan Ayckbourn takes the ingredients for a murder-mystery thriller and adds surprises, comedy and twists to keep you wondering... not least who is the victim?

A family of artists of various kinds live together in a once-grand house which is slowly falling apart. The musician, painter and novelist are complete failures and each would like a share in the family's 'fortune'. Add to the household an unsuccessful detective and a stroppy teenager and you begin to see that family ties are at breaking point!

Ayckbourn makes this tongue-in-cheek murder-mystery even more intriguing by allowing a different murderer be unmasked in each performance... even the cast may not know which characters 'dunnit ' until they reveal themselves!


---
What the Audience said
"My friend and I really enjoyed "It could be anyone of us" last night. Well done and congratulations to everyone concerned. I'm still trying to decide for sure "who did it"!!!" M.B.

"As angels (and relatives) we could be accused of bias but "It could be any one of us" was yet again an Ayckbourn winner. We were impressed with Jessica Horabin and her piano playing and "singing" and Lucy Alderton (poached from her school drama club) Wythall will go from strength to strength with new young blood being given an opportunity. We also look forward to seeing the new directors having another go."
Clive and Janet Hughes.
Our Audience, Comments and Social Media
---