Two Into One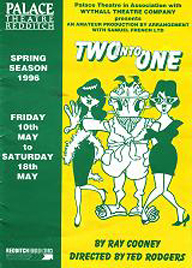 Venue : Redditch Palace Theatre
Date : May 1996
Genre : Farce
Director
Ted Rodgers
Director
Cast
Crew
Crew
Production Gallery
Production Reviews
Breathless farce provides a barrel full of laughs
Brave souls that they are, Wythall Theatre Company dived into the raging white waters of farce for their, latest performance, coming up breathless but smiling.

It's a tricky thing to do right, farce. The timing needs to be as tight as a drum and you have to be in exactly the right place at the right time to a) get the laugh and b) not get squashed like a bug on the shifting scenery.

Laughs there were, thankfully, as shennanigans aplenty unfolded in the lobby, bedrooms and beds of the Westminster Hotel where MP Richard Willey (Mike Beamish) was hoping for an afternoon of what they used, to call 'nooky' with secretary Jennifer (Jessica Horabin).

Sadly, wife Pamela (Joy Rodgers) appears on the scene, and when the MP's hapless assistant George Pigden Mark Reynolds) is sent in to keep things smooth, you won't be surprised to find that clothes are off and chips are down and everybody is in the wrong room.

Mark Reynolds was brilliant as the put upon G-man. Brilliantly rehearsed, he nonetheless conveyed a man freefalling afresh through disaster after disaster, with six consecutive bad quarter hours to hurdle and his career, sexuality and sanity all very much on the line.

Turning, on a sixpence, Reynolds was funny 11 different ways and could have done with a bigger audience to take him all in.

Despite a few first-night nerves, the leads were all superb, Beamish unravelling as the Tory chump, Joy Rodgers a mumsy vixen as his wife and Jessica Horabin sweet'n'sassy as the secretary very involved in parliamentary affairs.

There's-always a waiter or butler in these things, M they nearly always steal the show, as did the splendid Paul Hughes, a chunky Chinaman with a truce Lee vibe. Two Into One is on until Saturday and you'd be well advised to get yourself along.
David Pearce, Unknown, 1996
---
TICKETS are still available
TICKETS are still available for Wythall Theatre Company's (WTC) latest production, the sexy frazzled Cooney farce Two Into One.

Set in the saucy world of government affairs, the fun starts when roaming Tory MP Richard Willey books into a top hotel with wife Pamela.

Having shipped her off to a matinee performance of Evita, Willey persuades down-trodden underling George to book him another suite for the afternoon.

Another suite? And why? So he can set about the business of seducing one Jennifer Bristol, blonde bombshell PA to the PM, no less. But young George gets it all wrong, booking rooms slap band next to the one the errant member is already in.

Desperate to correct things, the hapless G is forced to persuade Pamela that HE fancies HER.

And then the trouble, as is so often the case, really starts, with more doors banging and trousers falling than you can shake yer stick at.

WTC bring oodles of their spicy sauce to the Palace Theatre this Friday and Saturday and and next Wednesday to Saturday (May 15 to 18).

Ticket prices are £4.50 and £5.50 from the box office and on the back of their success last year, the new show looks to be an absolute adult wow.
Unknown, Unknown, 1996
---
"Deserved Reputation"
Wythall Theatre Company's deserved reputation for top quality amateur theatre was immeasurably enhances with this superb production of Ray Cooney's classic frenzied British farce.

The plot is right out of a sitcom heaven - MP and Junior Minister, Richard Willey, decides to have a bit of an extra-Parliamentary session with the PMs glamorous secretary, Jennifer Bristow.

His put-upon private secretary, George Pigden, has to arrange the liaison but therein lies the problem - the suite he books at The Westminster Hotel Is right next to Mr and Mrs Willey's.

And when Mrs Willey thinks George fancies a bit of fun with her and you throw in a prudish labour MP, an irate manager and an interfering waiter, the problems really start. As outrageous excuse is piled on to enormous lie, it turns into a fast and furious round of slamming doors, changing identities and trousers-down silliness.

The actors carried the whole thing off superbly. Mike Beamish desperately randy Richard Willey, Joy Rodgers' equally amorous Pamela WilIey, John Parkes' outraged manager, Paul Hughes' brilliantly confused waiter - all were played wonderfully well and, most importantly of all, with great timing.

But at the centre of this maelstrom of misunderstandings and extra-marital shenanigans, Mark Reynolds' Pigden stole the show. Spinning like a top in the midst of the chaos he created; this was one, of the first comic performances I've seen for a long time.

It's a tricky play to stage but WTC did well, considering the limitations of the Palace stage - a special mention must go to the stage hands who worked like Trojans to swap the scenery between lobby, lounge and bedroom.

Definitely politically incorrect, indisputably outlandishly-plotted, undoubtedly a fun evening out - top marks all round.
Howard Walker, 1996, Unknown
---